Featured in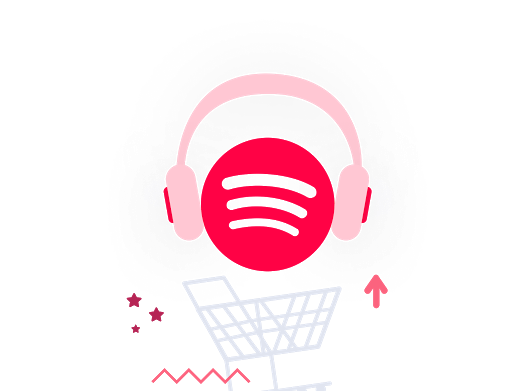 Sell More Everyday with Spotify Ads!
Today we're going to talk about advertising on Spotify. Wait a minute: does Spotify have ads? Yes, it does. In fact, inside the world of digital marketing, there's a trend that indicates that these kinds of advertising are growing.
If you follow our posts, you may already know what programmatic voice ads are. If not we recommend you to go back and read that post. We'll wait. Done? Great, let's move on.
Spotify is a streaming platform and an app for playing music and podcasts. It allows us to listen to songs, albums, playlists and there's even a radio mode. It offers two services: premium (no ads) and free (with ads). We're going to focus on the second one.
Let's dive into Spotify Ads.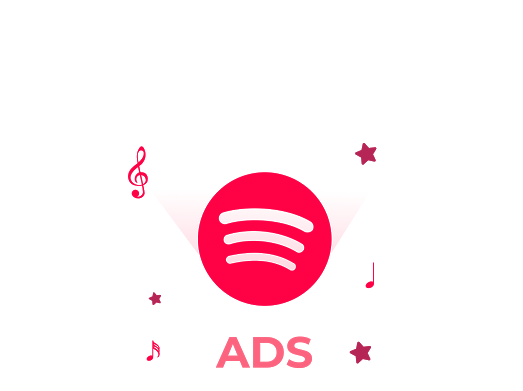 What are Spotify Ads?
Spotify Ads are pieces of advertising audio content with a maximum length of 30 seconds. These ads are played between songs on Spotify's free accounts.
Usually, they are formed by a voice and a background music. Some could even include a video, but it will only be displayed when the platform is occupying the screen.
How do Spotify Ads Work?
Spotify Ads are meant to capture user's attention in different ways. There are several formats to choose from:
Audio Everywhere: This is the classic Spotify Ad, consisting in a 30 second piece of advertising that works in all devices.
Video Takeover: The video occupies the whole screen, but only if the user is playing Spotify in the forefront.
Sponsored Session: The user accepts to watch the advertising video, but he receives a gift in exchange: 30 minutes without ads.
Overlay: An image is displayed in the forefront.
Homepage Takeover: The advertiser gets Spotify's home page for as long as 24 hours.
Megabanner: A huge exclusive banner for up to 30 seconds.
Sponsored Playlist: When an advertiser sponsors a playlist, his brand's logo will be displayed as the playlist's image. When users pause the playlist, ads from our brand will be shown.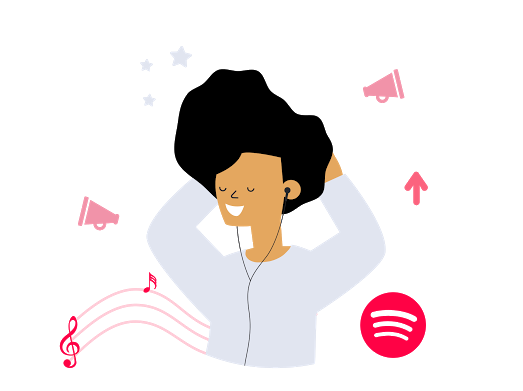 Why Advertise With Spotify Ads?
Spotify is the world's biggest streaming platform. By 2020 the company had 320 million active users each month, among which 144 million were premium subscribers.
We're talking about a huge market. Also, as we have already explained when we wrote about programmatic voice ads, audio advertising is a growing trend and it has some advantages compared to audiovisual ads.
In November 2020 Spotify bought Megaphone, an advertising and podcasts platform. This indicates the path Spotify is taking.
Spotify can be accessed from computers, tablets, phones and even from video game consoles. The mobile option, though, is the most used.
An interesting advantage: voice ads can't be paused. If a user mutes the device, the ad gets paused until the volume is up again.
Also, the platform takes measures to guarantee that our ads are not played before or after songs that may have offensive or violent connotations. This way, Spotify wants to avoid our brand to be associated with negative experiences.
How to Advertise with Spotify Ads?
One of the most attractive aspects of Spotify Ads is its easy-to-use platform. The company offers an advertising platform called Spotify Ad Estudio.
Once you have created an account with Spotify Ad Estudio, you must segment your audience. You can target your potential customers by demographic location, age, etc. You can also filter users by the type of content they listen to.
Among the factors that allow us to segment our audience with Spotify we could list:
Age and Sex
Location and Language
Interests and Behaviour
Playlists
Musical Genre
Streaming Events
Mood
Time of the Day
Device
If we don't have the resources, the know-how or the time for making our own ads, Spotify Ad Estudio offers the possibility of creating ads for us.
We can insert a script and select a voice over. We can even choose the music. All this can be done without paying any extra fee. The results can be available within 24 hours.
Spotify allows a minimal investment of 250 dollars and the placement of the ads is defined by a real-time bidding system. The cost per impression is higher than other platforms, but the experts say that Spotify's audience is a very compromised one, making this platform a very advantageous advertising channel.
Tell us, do you listen to podcasts or music on Spotify? Have you ever used Spotify Ads? If you want to know more about voice ads, ask our team of digital marketing specialists. Click here and start selling more everyday with Spotify Ads.
Make effective ads on Spotify and start reaping its fruits